Doctor Formulated
PROBIOTIC ULTRA
THE ULTIMATE DIGESTIVE HEALTH SYSTEM®
containing

CURCUMIN REDUCT™
and
LACTOWISE™

with 500 MILLION LIVE BACTERIAL SPORES
ACTIVATED IN THE STOMACH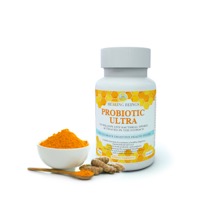 Probiotic Ultra™ is developed by Dr. Robert Gross MD, and his team of Scientific Researchers. Dr Gross is a graduate of Harvard Medical School, and Tufts University, with Post Doctoral work at MIT. Click here for more information on Dr. Gross.


Lactowise™ and Reduct™ are registered trademarks of Sabinsa Corp.

Healing Beings Probiotic Ultra™ offers a comprehensive digestive and intestinal health support with a uniquely effective synbiotic containing probiotic Bacillus coagulans and prebiotics galactomannans as well as inulin. It contains highly active, bio absorbable cur cumin (turmeric extract) and adaptogen Andrographis to provide additional digestive, liver, immune and anti-oxidant benefit. This is the ultimate synergistic, multi-functional dietary supplement complex for maintaining gut health.

Warning: If you are pregnant, nursing, taking any medications or have any medical condition, consult your doctor before use. Do not use if allergic to any of the Ingredients. Discontinue use and consult your doctor if any adverse reactions occur, Keep out of reach of children. These statements have not been evaluated by the FDA. This product is not intended to diagnose, treat, cure or prevent any disease.



Thirty Day Supply ($24.95) plus $3.99 including S/H

AVAILABLE IN THE UNITED STATES/PUERTO RICO AND U.S. TERRITORIES ONLY!






BUY TWO OR MORE AND SAVE


also available at










embed src="http://www.healingnutraceuticals.com/resources/Journey_in_Faith.mp3" autostart="true" loop="true" width="0" height="0">